Restorative Dental Services
Restorative dentistry is all about returning your smile to its former glory. We can accomplish this by using crowns and bridges, porcelain veneers, dental implants, full or partial dentures, and more. You'll be able to talk easily, enjoy foods, and smile widely without discomfort or embarrassment. To learn more, call Sheppard Family Dental Care to schedule an evaluation.
Gentle and Effective Tooth Preservation
With periodontal therapy, the goal is to control and manage your periodontal disease without the need for surgery whenever possible. Ultimately, periodontal therapy promotes optimal gum health, which is conducive to preventing tooth loss. In some instances with advanced periodontal disease, we use the Biolase water laser to perform periodontal therapies safely and gently with little to no discomfort to better fight bacteria and heal gum tissue.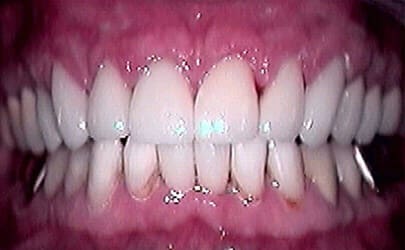 Patient Results
Patient had discolored teeth with spacing and misalignment. We corrected with eight crowns on the upper arch and eight crowns on the lower arch.
Visit Smile Gallery
Relief that Looks and Feels Natural
Inlays and onlays are restorative pieces custom milled and bonded to damaged areas of your teeth once decay is removed. The only difference is that an inlay lies within the cusps, while an onlay extends over one or more cusps. Though gold has traditionally been the material of choice for inlays and onlays,porcelain has become increasingly popular in recent years due to its strength and aesthetic ability to match the natural tooth color.
Ongoing Protection for Affected Teeth
Whenever a tooth appears to be damaged beyond what a filling or onlay can repair, we use a crown to restore your smile to its original function and appearance. With proper home care and regular checkups, a crown can last anywhere between ten years and several decades!
Our Restorative Dental Services Can
Restore a Damaged Smile to
Its Natural Perfection
Improve Oral Health
for the Entire Family
Boost Confidence
and Self-Esteem
Permanent Solution for Missing Teeth
Bridges are used to fill in gaps caused by missing teeth. A dental bridge is just that—a bridge, which is made of a crown at each end fused to the pontics, or prosthetic teeth, in the middle. After your natural teeth have been prepared and your permanent bridge has been created, the bridge is cemented in place, restoring beauty to your smile.
Restoring Your Confidence in Your Smile
A removable partial denture replaces one or more missing teeth on any given arch. By filling in these gaps, it helps you chew food more thoroughly, maintains the position of your natural teeth, and restores your appearance. Our dentists will work with you to create a set of partial dentures that look natural and restore the function of your mouth.
For a Fully Restored Smile
Dentures are a universal solution for people who have lost teeth or require extractions. By replacing all missing teeth on one or both arches, they support the bone and muscle structure of your jaw and face and have a compelling effect on both your smile and your confidence levels.
Implant-Retained Dentures
Permanent Alternative to Traditional Dentures
It's never pleasant to lose a tooth, much less several of them, but this can happen due to factors beyond your control. Implant-supported full dentures can be an excellent solution to replace your natural teeth and help you regain your smile.
Instead of resting on your gums and requiring adhesive like a traditional denture, your implant-supported denture is attached to dental implants inserted into your bone. Once your mouth has healed, the denture will look, feel, and function like your natural teeth.
Permanent, Comfortable Dental Restorations
Gaps in your teeth can make eating and speaking difficult. We can help you regain those functions and give you the smile you've been wanting at the same time. After inserting a permanent implant, we complete the restoration by placing a natural-looking crown on top of the implant post. You will be able to eat and talk with ease, and you will never have to hide your smile again.
Restore your smile to its former brilliance!
Are you wishing the smile you have today was as brilliant as it once was? Call our skilled and friendly dentists today to evaluate how we can help you rejuvenate your oral health and get your beautiful smile back!