Keeping Your Smile in Top Form
The term "dental home" has grown in popularity in recent years. Generally speaking, your dental home is a place where you and your family can count on the delivery of comprehensive oral health care in a coordinated, family-centered fashion.
Here are a few of the many benefits of establishing a dental home:
Knowing who to call if you have a dental emergency
Preventing oral disease through routine checkups, cleanings, and preventive treatments
Keeping small dental issues from becoming more extensive
Having a trustworthy resource for dental-health questions and concerns
Please call Sheppard Family Dental Care today if you are ready to establish a dental home for your family.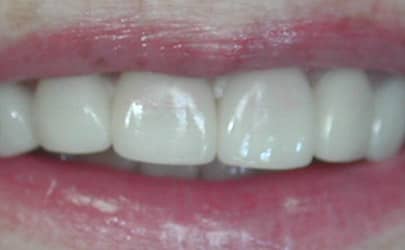 Patient Results
Patient had fractured and discolored teeth. We placed eight crowns on upper and lower anteriors (front teeth).
Visit Smile Gallery
A Lifetime of Healthy Smiles
Through patient education and regular checkups and cleanings, preventive dentistry can halt the onset or progression of oral disease and prevent the future need for expensive and complicated dental treatments.
At your first appointment, we carry out a detailed evaluation to assess your current dental health and screen for gum disease, or periodontal disease. Using digital X-rays and a DigiDoc HD intraoral camera as well as a thorough periodontal check, we obtain the information we need to create your ideal treatment plan. After your first cleaning, which takes place during your next appointment, we recommend that you schedule a routine cleaning at least every six months to help prevent tartar buildup and new decay.
Restorations That Look and Feel Natural
Using tooth-colored, or composite, fillings can restore teeth to an attractive, healthy state. Composite fillings offer several advantages over traditional silver fillings, one of which is their completely natural appearance. Our dentists customize the material's shade to match your natural tooth color, as well as mold and sculpt it to fit nearly any shape or contour.
Our General Dental Services Help You
Restore Beauty
and Function to
Your Smile
Improve Your
Health and
Self-Confidence
Enjoy Optimal
Dental Health in
All Stages of Life
Preserving Your Natural Teeth
If bacteria has damaged the nerve tissue inside your tooth, a root canal can potentially prevent the loss of that tooth. Using technological advancements that make this procedure more comfortable and effective than ever before, we gently remove the infected tissue and fill the void. Then, we restore and protect the tooth structure with a filling or crown, depending on whether it is a front or back tooth.
Seamless Tooth Restoration
Dental crowns are a durable method of restoring the look and functionality of your smile. For the most natural and aesthetic results, we work with superior-quality materials to provide you with a beautiful smile. For example, our e.max crowns create a flawless translucency and a highly natural looking restoration that's ideal for your most visible teeth. We also offer monolithic zirconia crowns and bridges that are built to protect posterior teeth without chipping or cracking.
To make room for the crown, we gently prepare the affected tooth and take an impression, which will be used to make the final crown. Once it's cemented in place, you'll love the results!
Although permanent teeth were meant to last a lifetime, sometimes it is necessary to remove a tooth. In some cases, the tooth is too badly damaged from trauma or decay to be repaired. In other instances, dental crowding may be an issue: your teeth have competed for space in the mouth and grown in improperly, causing misalignment. Whenever extraction is necessary, we will gently remove the tooth and provide you with treatment options for restoring your smile.
Advanced Oral Care for Gum Disease
Periodontal therapy can take on various forms, but it always aims to restore health to diseased tissues. In severe cases, gum (periodontal) disease can spread to the supporting jawbone, which may result in tooth loss.
At Sheppard Family Dental Care, we use a variety of periodontal therapies to reverse the effects of gum disease. These include deep cleanings, or scaling and root planing, and a Biolase water laser (a water-energized laser beam) to remove plaque and tartar under the gumline and help repair damage from lost gum and bone tissues.
Ready for a lifetime of dental health?
Book an appointment at Sheppard Family Dental Care today! We are accepting new patients and would love to welcome you into our practice.