Your smile has never been more beautiful.
Many people embrace cosmetic dentistry as a way of enhancing their appearance and improving overall self-esteem. If you're ready for a smile makeover, we can create tailored cosmetic solutions that exceed your expectations. Options include whitening packages, porcelain veneers, porcelain crowns, porcelain bridges, and gum contouring, all prepared and applied by our skilled and professional dentists.
You deserve a winning smile.
Whitening is a popular procedure that can minimize discoloration due to smoking, medications, coffee, and wine, giving you the confidence to smile again. At Sheppard Family Dental Care, we create a customized take-home teeth-whitening kit that lets you brighten your smile without having to book multiple appointments.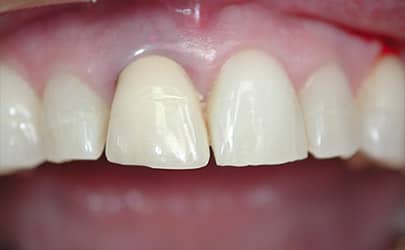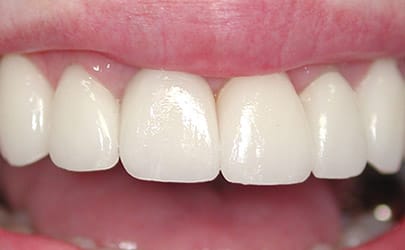 Patient Results
This patient wasn't satisfied with the shape of her teeth. This was corrected by placing veneers on the upper arch.
Visit Smile Gallery
For a Whiter, More Brilliant Smile
If you want to fix a problem with your smile beyond what orthodontic treatment can achieve, then consider veneers. Veneers are very thin pieces of porcelain affixed to the front surfaces of the teeth to enhance the beauty and brightness of your smile. Porcelain is ideal because it is designed to mimic natural tooth structure, allowing them to blend in and look natural.
Our Cosmetic Dental Services Help You
Achieve the Smile
You Want
Keep Your Smile
in Its Finest Form
Increase
Self-Confidence
Natural-Looking Protection for Damaged Teeth
Porcelain crowns mimic the natural appearance of your teeth. They encapsulate an implant post or natural tooth, restoring the function of your tooth and protecting it from further damage. In addition to covering discoloration, porcelain crowns restore teeth that are decayed, chipped, or cracked beyond what a filling can repair.
Bridging the Gap to a Healthier Smile
Porcelain bridges are permanent prosthetic restorations that fill in the gap left by extracted teeth. They work by using the teeth on either side of the gap as anchors for the prosthetic. Unlike implants, they are a nonsurgical method of replacing natural teeth and eliminate the need for removable partial dentures. Once applied, they look and feel completely natural.
Gentle and Effective Smile-Shaping
Gum contouring is a cosmetic procedure that can change the appearance of your gums. Using Biolase's water laser technology, we can reshape the gumline and eliminate excessive gum tissue. This innovative procedure combines water with focused light energy to create a gentle and precise dental experience.
A gorgeous smile is only a phone call away!
Let Sheppard Family Dental Care transform your ordinary smile into one that is stunning and brilliant! Call us today to schedule an evaluation.