Now's the Time To Create Your Goal List for the New Year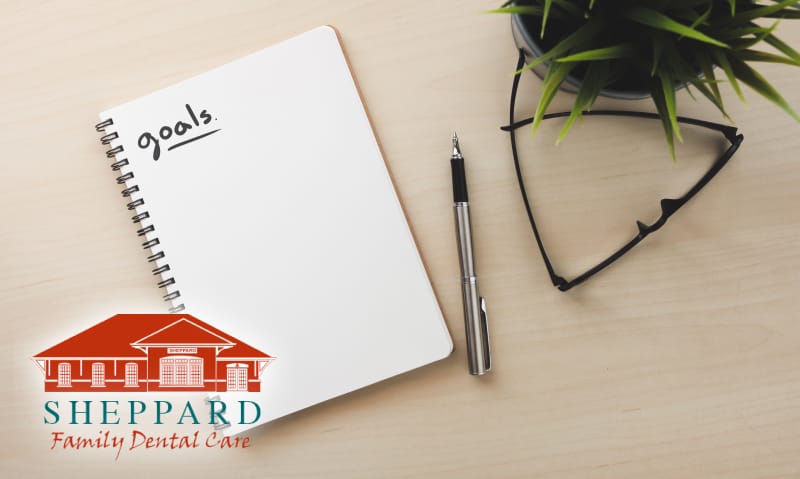 The countdown to the new year is officially on. During this season of thankfulness, giving, and receiving, it is also time to start thinking about our goals for the new year. What accomplishments do we want to tackle? What changes do we want to make to our health and way of life? What bad behaviors do we want to toss aside? But when it comes to setting those goals, how do you begin?
Not to worry, because the team at Sheppard Family Dental Care, your Lawton family dentistry team, has put together some thought-starters for you.
How should you set your goals for the new year?
Looking ahead to the new year often brings a sense of excitement. The opportunity to start fresh with new goals can be pretty thrilling! But sometimes, setting those goals for the new year can be daunting. After all, if you don't accomplish what you set out to do, it can lead to disappointments.
So before we start on some ideas, check out these underlying principles for setting goals.
SMART. Make sure your goals follow the S-M-A-R-T method. Goals should be specific, measurable, action-oriented, realistic, and time-bound. So, while setting a plan to put aside $1,000,000 by the end of the year might be specific, measurable, action-oriented, and time-bound — for most of us, it isn't realistic. However, a goal to drink 60 ounces of water per day meets all of the S-M-A-R-T goal criteria.
Significant. Come up with a goal or two for the significant aspects of your life, such as your career, relationship, spirituality, health and fitness, and financial situation.
Written. Write your goals down and ensure they are prominently displayed so you can revisit them from time to time. This doesn't mean you need to frame them and make them a focal point in your living room. But maybe tape them inside a kitchen cupboard, or hang them on your bathroom wall near the mirror so you can glance at them when you are getting ready for the day each morning.
Relationship. Include a partner in your goal-setting. Goals related to weight loss, good oral health, and improving eating habits are often more manageable when you have a trusted and loving partner to hold you accountable. That said, make sure your partner has some goals so you can reciprocate the support.
5 Ideas for Goals for the New Year
Now that you know how to set those goals for the new year, it's time to think about what those goals should be. Our staff plans to incorporate some ideas in the coming year. We're so excited about the goals that we thought they might be worthy goals for you too.
1. Get your family calendar in order.
We know how busy life can get, whether you have children or not. So this year, why not splurge on a fun family calendar, or download one that you can use online? Search the internet for your kid's school calendar, look at your company holidays, etc., and make sure those key dates get reflected now.
Knowing when the kids are on spring break and when you can set time aside for a summer day trip here, and there will make planning later that much easier. Next, take time to schedule annual physicals for each member of the family. Don't forget to schedule your dental visits and your kids' dentist visits too.
2. Brainstorm some family activities.
Come up with a few fun family activities you want to tackle in the new year. Is there a downtown museum that your family has never visited or been to in a while? How about a new restaurant you have yet to try? Or, want to plan a family vacation?
Make a note of these activities now and set expectations with your partner on where the priorities lie. Being on the same page now will create the enthusiasm you desire later and will help the whole family avoid disappointment.
3. Prioritize your self-care.
With life as busy as it is, taking time for ourselves can often fall to the bottom of the priority list. So this year, take the bull by the horns and make yourself a priority. Set a goal to exercise 30 minutes a day, three or four times a week. Consider a spa appointment once every three months for a facial and a massage (detoxification can do the body good.)
And by all means, be sure to prioritize time with your friends – away from your family. Come up with a reasonable cadence with your friends that your partner can support. Spending a night with friends is good for the mind and soul. Don't underestimate the value of some alone time, either. Taking 15 minutes for yourself every day can be refreshing and offers a great reset to help you face the day.
4. Reinvent your family meal plan.
Come up with some goals to find new healthy snacks for you and your kids. Instead of tater tots on burger night, try a fun salad or slices of fresh fruit. Take your child with you on a shopping trip to a farmer's market or a health food store and pick some new items to try together. When you find healthy snacks your kids like, you will be more likely to snack on those items too, instead of reaching for that bag of chips in the pantry.
5. Stay on top of your oral health.
Okay, we had to throw this one in there. We're a dental clinic, after all. But really, why not make oral health one of your goals for the new year? Failure to take care of your teeth and gums can have many consequences later in life.
Looking for a new dentist? Contact us today to request an appointment with our team at Sheppard Family Dental Care, and let us show you that we're the right dental team for you and your family in Lawton, Oklahoma.
Sheppard Family Dental Care wants to be on your list of goals for the new year.
If your oral health took a backseat in the previous year, make this the year you turn your smile around. Be sure to brush your teeth twice a day for at least two minutes at a time with a dentist-recommended toothpaste. Floss between all teeth at least once a day, and then rinse with a fluoridated mouthwash. But not only that – make sure you have an appointment with the dentist once every six months for a professional dental cleaning and oral evaluation. Your overall health, and your smile, will thank you.